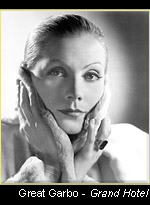 The ultimate star throughout the entire decade was Greta Garbo. Her luminous face, her graceful appearance, her impression of delicacy, her total illusion projected "Movie Star Glamour". Reams of publicity followed her every move. Her career at MGM started in the mid-twenties, five years before the decade began. Garbo was brought to America, along with her mentor, Mauritz Stiller, by Louis B. Mayer. In Sweden, her native country, she had been a photographic hat model. At the same time, she studied and worked as an actress at the Academy of Dramatic Arts in Stockholm. Her most memorable silent was Flesh and the Devil with John Gilbert, handsome leading man, as her lover. For her debut in sound film she was cast as the prostitute in Eugene O'Neill's Anna Christie, a Pulitzer Prize winner in 1921, and the perfect vehicle for the young screen goddess. The studio's publicity headlined "Garbo talks". Her husky voice and slight accent were sensational. Fans flocked to see and hear her for the first time. Grand Hotel, with John Barrymore as her leading man followed which was another blockbuster for MGM. Other hits were Queen Christiana, Camille, Anna Karenina, and Susan Lenox.plus others. Ninotchka, her last film, was disappointing. She retired from films at 33.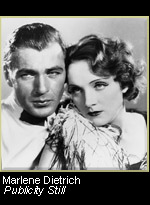 Garbo's fame and admiration prompted Paramount to seek her counterpart in Europe. That woman was Marlene Dietrich, who also had a mentor,: the young German-American director, Joseph von Sternberg. The Blue Angel, their first collaboration, made in Germany, created extraordinary excitement for both Dietrich and von Sternberg. The film established them both as first rank artists. He guided her through her first three films at Paramount, Morocco, playing a tragic muse to Gary Cooper's foreign legionnaire, The Blond Venus, playing a cabaret singer, a familiar role throughout her career, and Shanghai Express, playing Lily, a white prostitute living in China. Subsequently, Dietrich was cast as The Scarlet Empress, playing a degenerate Catherine the Great and Concha Perly, a Spanish playgirl in The Devil Is A Woman.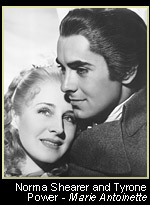 Norma Shearer, another glamorous and beautiful star from the silents, reigned as the queen of MGM. Her marriage to Irving Thalberg, head of production, made her transition to talkies effortless. He consistently cast her as an over-sexed, restless, and worldly woman. She won an Oscar in 1930 in The Divorcee. Private Lives, Strange Interlude, and The Barretts of Wimpole Street, all adaptations of successful Broadway plays, followed. After the early death of Thalberg, she went on to star in Romeo and Juliet, Marie Antoinette, Idiots Delight plus The Women, her last film in 1939.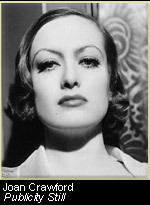 Joan Crawford, another MGM player, also easily made the transition to sound. She sustained her career for fifty years by her talent and ambition. The Crawford signature roles included such hits as Our Blushing Brides, Dance Fools Dance, Dancing Lady, all on her home lot MGM. In each of these she played working women as she did in the 1932 MGM classic, Grand Hotel.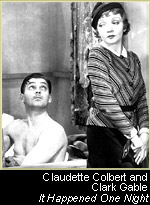 The Sign of the Cross, Cecil B. DeMille's epic drama, introduced Broadway star Claudette Colbert to American audiences.. Her next role for De Mille was Cleopatra, another epic that made her a prominent star. Imitation of Life furthered her career as a formidable actress. It was Columbia's It Happened One Night, with Clark Gable as her leading man, that won her an Oscar. The film was the hit of the 1934 season. It is memorable for Gable's and Colbert's change of pace, casting both players in a romantic "screwball comedy."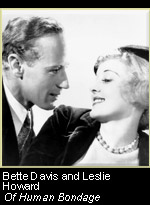 Bette Davis, originally signed by Universal, left her contract to begin a long career at Warner Brothers. She proved her talent and endurance by being named the First Lady of Films fifty years later. She was an actress who wanted to act. On loan out to R.K.O. in 1934, she played the role of a sluttish waitress who ensnared Leslie Howard, a young medical doctor, in John Cromwell's Of Human Bondage.. Her performance was stunning but she failed to get the Oscar for her work.. The following year she won Oscar recognition for Dangerous. Jezebel, in 1938, with a story line similar to Gone with The Wind, stunned the Academy. She walked off with her second Oscar that year. Dark Victory followed in which she gave another extraordinary performance. She closed the decade playing Queen Elizabeth in Elizabeth and Essex.
Clark Gable originally came to Hollywood from the Broadway stage in the late twenties. He was signed by MGM in 1930 and rose to prominence playing opposite Norma Shearer in A Free Soul at her request. Irving Thalberg, her husband and head of production at the studio, was aware of Gable's appeal and agreed to the duo. Gable became known as "The King" in Hollywood, as much for his talent as for his masculine good looks...In Capra's It Happened One Night, Gable played light comedy. The film shot to the top of the charts. He was a hit with light comedy as well as leading men roles. At the end of the period he won the coveted role of Rhett Butler in Selznick's version of Margaret Mitchell's novel Gone With The Wind.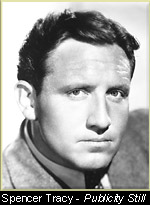 Spencer Tracy, another stalwart of the period, took second place with the public. A stage actor from Broadway, he was signed by Twentieth Century Fox.. On loan-out from that studio to Warner Brothers in 1933 he became a star in 20,000 Years in Sing Sing. After his success in that film he signed with MGM in 1935. Three starring roles followed: Fury, Captain's Courageous and Boy's Town. "Courageous" and Boy's Town both won Oscars. After that he was known as the "actor's" actor in the business.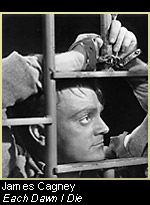 James Cagney, born in New York City, transitioned to Hollywood as a song and dance man from vaudeville and the Broadway stage. His father was both a bartender and amateur boxer, an influence he used in his movie career. Warner's signed him and used him in a string of gangster films, a genre in which they specialized. These included The Public Enemy, Each Dawn I Die, White Heat and Angels with Dirty Faces. Broadway's Boy Meets Girl, Busby Berkeley's Footlight Parade, plus the role of Bottom in Shakespeare's Midsummer's Night Dream offered him a relief from playing heavies.
Tyrone Power was destined to be a star. Both his father, Tyrone Sr. and mother Patia, were Shakespearean actors. In direct line on his father's side, Grandfather Edmund had been both actor and concert pianist. Great-grandfather, Tyrone the Elder, was a touring comedian and actor in London, Wales, and his native Ireland. By seventeen the youngest Power left Cincinnati where he was born and had lived with his mother, just after graduation from high school, to live with his father the senior Power in Los Angeles. The young man expected to pursue his star by working with his father in films as he had on Broadway as a child. Shortly thereafter his father died in his arms on the set on which they were both working. Lloyd's Of London launched his career after a number of false starts. Hits followed, In Old Chicago, Alexander's Ragtime Band and Rose of Washington Square. On loan to MGM with Norma Shearer for Marie Antoinette, Zanuck felt his handsome leading man had been neglected. That was the end of Zanuck's generosity with his young star. Suez, another period drama, Jesse James, his first Western with Henry Fonda, were both memorable. The 30's ended on a high note for him playing opposite Myrna Loy in The Rains Came, a drama set in India.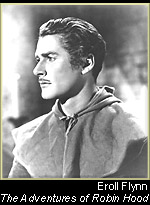 Errol Flynn, an Australian by birth, was the other handsome action hero of the thirties. Prior to Hollywood roles he participated in the making of a documentary in Australia called In the Wake of the Bounty. Among other characters in the film, it featured midshipman Young from the H.M.S. Bounty, who was a direct descendant of Flynn's on his mother's side. . This was his first connection with film and brought him to Hollywood and Warner Brothers Studio. It was Captain Blood, based on the legendary pirate, Captain Morgan that dramatically shot him to public prominence. The Charge of the Light Brigade and The Prince and the Pauper. historical and/or adventure dramas, followed. His greatest triumph, undoubtedly, was the lead role in The Adventures of Robin Hood, winner of two Academy Awards in 1939
«Back